When does the economy enter a recession - and what is this?
If a country's economy fails to grow or even shrinks (measured in terms of GDP) for two quarters in succession, this is called a recession. If this state persists for an unusually long time, it is referred to as a depression.

Predicting when this state will occur is difficult and cannot be determined with certainty. However, there are indicators (a very important one is pessimistic forecasts) based on expected negative events and psychology.

When and why may a recession come?
Germany had – and is going to have – an economic downturn in Q4 2022 and Q1 2023. Obvious reasons may be extremely high energy prices, a new corona wave, lockdown in China, extreme climate events, etc. Structural implications can also be interpreted pessimistically: Reform backlog, lack of digitalization, rampant bureaucracy, inertia in the economy and in the population, labor shortages, supply bottlenecks or backwardness in innovation are some examples.

The outstanding factor of a successful economy in Germany lies in its people. It is the engineers, developers, managers, workers, caregivers, etc. who create the prosperity.

Perhaps it is also consultants, lawyers, administrative staff and politicians who make a significant positive contribution. We have far too few of these resources in Germany - and above all too few highly qualified ones. We therefore need to recruit these skilled workers globally and make optimal use of the skilled workers we do have.
The days of waste are gone
Globally positioned companies must put all their resources into the important projects. We can no longer afford arrogance and stockpiling.

Misplanning, chaos and wasted time due to project bureaucracy will be just as devastating as overworking the important, good people. At best, these people should do what they are good at: their job.

In this context, projects and employees can be supported with technology that enables a 20% to 30% increase in value creation. Such technology is already applicable today!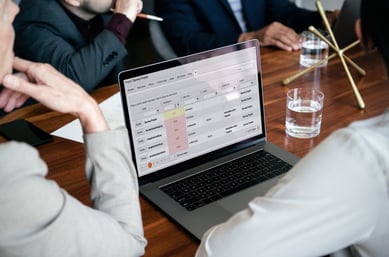 Artificial intelligence (AI) in project and deployment planning
combined with other platforms is such a technology that is already available and can be used immediately. Another one is software-supported, long-term strategic portfolio planning, in which the need for skills becomes transparent. This enables a targeted prioritization of the really important projects as well as the demand planning of the skills.

An example of what demand planning today should NOT look like is the staff shortage at airports at the beginning of the vacation season in 2022, which caused huge economic damage and can clearly be traced back to errors in planning and management.
What does this have to do with a recession?
Individual project management in your company will do little to prevent a national or even global recession. However, if the majority of companies - or even the German economy as a whole - adopts a mindset like the airport example and relies exclusively on external factors that cannot be influenced, the effects of a recession will be exacerbated. With corresponding, negative effects on the company.
Conclusion: How to be more resilient to the recession
It would be too much to ask of a project management team to stand alone against an (impending) recession. However, suitable project management software can support you in cushioning the effects of a negative economic development. For example, by using artificial intelligence (AI) to optimize the allocation of resources (as in Can Do). As a result, your projects become more efficient, can be completed faster - and remain more reliably within budget.

We would be happy to explain to you in a personal conversation what Can Do can specifically contribute to mitigating recession effects. Just get in touch with Can Do!