From simple scheduling to budget and skills management thanks to a modular structure
Standard software with the possibility to map specific use cases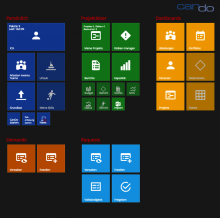 From individual project planning in Gantt charts to complex multi-project management with cross-project links, capacity planning via a central resource pool, skills management, support for the staffing process, template manager, diverse project controlling, integrated risk management and budget management - the project management suite from Can Do Cases offers it all. Due to its modular structure, this product suite is an optimal solution for companies of different project management maturity levels: A set of basic functions, which are fundamental for planning and controlling projects, forms the basis of the solution. Depending on the requirement profile, this can be extended with additional features so that the company receives exactly the range of functions it needs. This also ensures that the software solution is future-proof: If, after a certain period of time, additional functionalities are required, they can simply be added. The purchase of a new, additional tool is not necessary.
User-specific applications
Can Do's project management suite also offers the possibility of planning with realistic, i.e. inaccurate data. For example, when planning a project, the exact end or the required expenditure is often not yet known exactly. Therefore project managers can work with inaccurate data such as "project end: 3rd quarter 2017" or "effort: 25 to 30 person days". The Can Do server calculates the individual probabilities for all possible resulting cases, whether the planning can work or not, and issues a corresponding risk message. A false precision - very often the cause of a lack of acceptance of the planning and also for the failure of projects - is thus avoided.
Can Do Cases offers the right applications for all roles and users in the company: A project manager, for example, receives in the basic version an application for planning and controlling his project in the Gantt chart including resource management. In addition, dashboards are available for quick analysis of his projects, an overview of the risks of his project and a comprehensive reporting system. A project employee, on the other hand, receives an overview of his tasks and how much time is allocated to them in a personal dashboard. He can report back on actual times and progress and tick off activities.
Finally, Can Do is able to adapt the applications of Can Do Cases to the specific needs of its customers. Due to the special server-client architecture, individual standard functions can be recombined as in a mosaic, depending on requirements, so that the respective use case is optimally supported.