A project planner is needed! - i.e. a software for planning and controlling your projects. Especially if you are using such software for the first time, one of the crucial questions is: Should the project planner software be installed "on-premise" or does a cloud solution make more sense, i.e. a project planner online, so to speak? We provide decision-making support.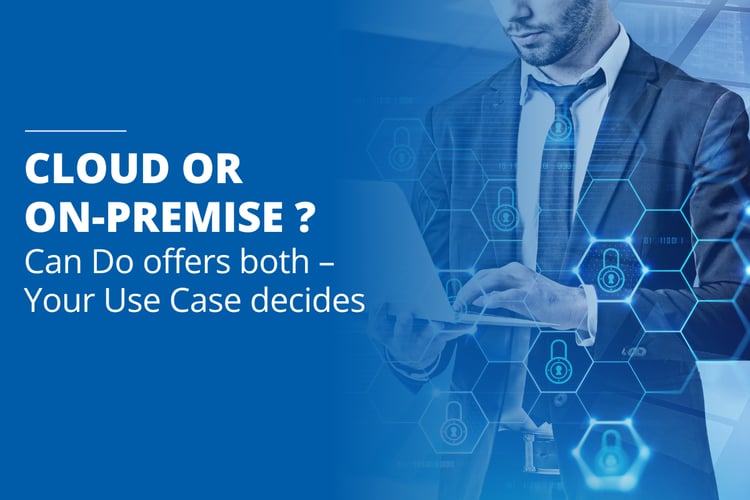 Project planer online or On-Premise?
Good-bye, spreadsheet! Once you are ready to implement the digitalization of your project management, you have already taken the decisive step towards optimizing your projects. And you're already faced with the next decision: should your project planner software be usable online - or better as an on-site installation?

The answer depends on several factors, which we'll get to in a moment. But of course it also depends on the provider of your project planner software: Cloud solutions (SaaS - Software as a Service) are becoming increasingly popular, and users no longer have a choice. This is a pity, because there are good reasons for project planners online as well as for on-premise software installations. With Can Do, the project management and resource management software with AI, you do have a choice. And we're also happy to lay out below what you should look for in your decision-making process.
Project planer online: the Stakeholder
On-premise? Or in the cloud? First and foremost, this seems to be the sphere of interest of the IT department. But in fact, the launch of a PM software, whether as a project planner online or as an on-premise solution, has an impact on various stakeholders in the company:
IT-Division
An on-premise installation ensures that the company's own IT department retains control over update cycles, add-ons, etc. to a certain extent. On the other hand, a project planner online relieves them of a lot of installation work and software maintenance.
Finance Controlling
A project planner online causes ongoing costs, whereas for an on-premise installation only a one-time (higher) investment is initially necessary. Both approaches involve a certain planning risk: While it is not possible to predict whether and how much the monthly costs will increase in the long term for the online project planner, it is unclear when the next paid version jump will be due for on-premise.
User
When an on-premise software needs to be updated by the internal IT department, this often happens during normal working hours and slows down users in their day-to-day business. Project planners online, on the other hand, are updated in the background on the provider's servers, and the new version starts automatically with the next access.
Compliance and Data privacy
Your own server, your own software, your own data: this sums up the advantages of on-premise. This contrasts with the effort required to protect the company's own server, on which the PM software runs, from unauthorized access and to guarantee all current data protection requirements. A project planner online that is operated in the cloud must meet just as many specifications in terms of server location, encryption, data handling, etc. This can be a difficulty with international providers. And on top of that, PM software, however it is technically implemented, should offer audit security.
Management
The decision between a project planner online and on-premise software also has an impact on the management level of the company: Both the different cost models and the fundamental consideration of where data is stored are matters for decision by management positions.

It is obvious: Whether a software project planner is purchased online or as an on-premise installation should be decided by the various stakeholders in the company. After all, this is at best a long-term investment that will accompany your project management for a long time to come. So that you are prepared for the discussions with your colleagues, here are the key points of the differences between a project planner online and a PM software in an on-site installation (on-premise):
Project planner on-premise: the pros and cons
Disadvantages of the on-premise installation
High one-time investment and possibly recurring costs due to further hardware requirements
Maintenance, updating and security updates must be carried out independently
Software may not be scalable; integrations may not be possible
IT must keep all workstations up to date
Revision security must be created by IT itself


Advantages of the on-premise installation
Data sovereignty remains within the company
By purchasing the software less dependence on future product policy of the provider
Independent of Internet connection
One-time purchase costs
Backup rules and revision security in the hands of the company's own IT department
Project planner online: the pros and cons
Disadvantages of Project Planner Online
Depending on provider: poor data protection, no DSGVO standards, no audit security, unknown server location.
Monthly recurring costs
Depending on provider: Dependence on cloud server resilience
Advantages of Project Planner Online
Depending on the provider, for example with Can Do: data protection, DSGVO standards, audit security, German server location with high fail-safety.
Easy scalability and expansion through integration of other cloud software tools
Automatic updates (version and security updates) for all users
No investment costs for own servers and backup systems
Conclusion: Your decision counts
PM software as SaaS (project planner online) or in the form of an on-premise installation? This is also a question of the project management software you choose. Because if, for example, a cloud tool doesn't fit your security standards, it can't be used as a matter of principle. Can Do, the PM and resource management software, on the other hand, is also available in a cloud variant that is unfamiliar with the usual security drawbacks: Can Do is operated in its SaaS version (Software as a Service) in a completely DSGVO-compliant and audit-proof manner. This means that the choice between a project planner online and project planner on-site only depends on the requirements and preferences in your company.

Of course, we will be happy to explain what Can Do offers you - regardless of its installation environment: Contact us and let us show you what modern project management can look like.