No pre- and post-holiday stress? It's possible - it's just a question of effective organization. To keep track of your employees' vacation and working times quickly and easily, Can Do offers you its own vacation planning features.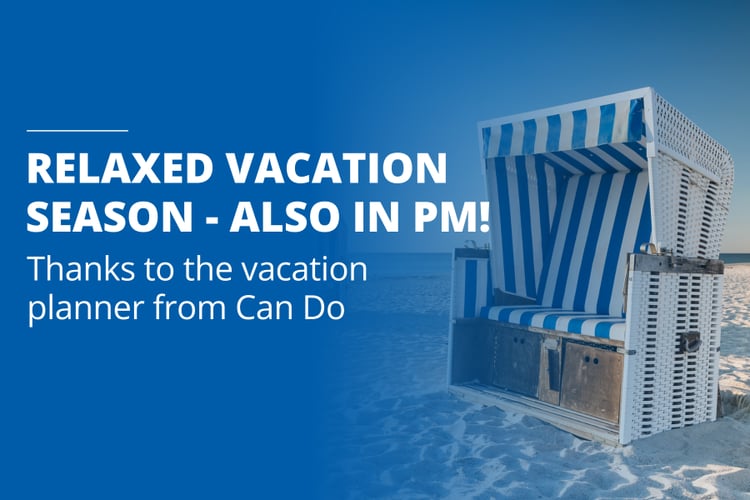 Vacation time! For some, it's the promise of relaxation and recreation; for others, it's sheer horror. After all, day-to-day business and the most important projects have to be kept running, even if a large number of employees are absent. As Head of Customer Service and Support, I am responsible for ensuring that our customers receive competent, targeted advice and assistance quickly and easily, even during typical vacation periods. Internal projects can also be scaled back once in a while if there is a lack of resources; however, departments with an external impact (such as Service and Support) must be staffed throughout the year in such a way that there are no undesirable waiting times.
From practice
We at Can Do Customer Service and Support also use our proprietary software to best manage team staffing, harmonizing projects and vacation absences. The benefits of Can Do's vacation planning tools include:
Efficient vacation planning.

Scheduling an employee's vacation time rarely comes alone: very often it has an impact on availability in other departments and projects. When employees work or are scheduled to work on multiple projects at the same time, vacation can impact other team members' work schedules - and even become a factor in project success. Can Do's vacation scheduling feature allows you to effectively manage these challenges.

Easily process vacation requests

Never process vacation requests on paper again! By integrating vacation planning with your enterprise-wide capacity planning, our software gives you the ability to request, approve or deny vacation time with ease at the click of a mouse. The fully digitalized processing and management of leave requests allows you to maintain full control over your employees' leave management, working hours and absences.


Integration of vacation-related absences in capacity planning
With our software, you can seamlessly integrate vacation-related absences into your capacity planning. You get a transparent overview of the availability or absence of your employees and can easily match the requested vacation days with the time requirements of your projects. In this way, you minimize unexpected planning problems and ensure optimal time distribution.

Clear overview of open vacation entitlements
Who will be missing this year? For how long? And how can he or she be replaced in a project? As the person in charge, you always keep track of the vacation days taken, requested and remaining for your employees. Can Do enables you to plan the available time efficiently. Especially helpful for your project planning and project management: Thanks to real-time display, you can identify potential risks in projects and departments at an early stage.
Automatic update of the vacation accounts
No more ambiguities or uncertainties about vacation days not yet taken! All your employees' vacation accounts, including absences, are managed digitally and updated automatically. This means you always have an up-to-date overview of the available vacation days.
Furthermore …
… Can Do's vacation planning suite offers you additional functions such as "My vacation calendar" for your employees, who can request and have their vacation approved online here. An integrated holiday calendar and an annual planning overview are also available to you. An individual configuration of the vacation planning tools tailored to your company can be made at any time in the administration area of Can Do.
You see: Not only when it comes to project management and project planning, Can Do as an AI-supported project management software provides you with numerous tools and features. But also when it comes to "vacation from projects". Here are a few more tips from me for effective vacation planning, fresh from my everyday project work with Can Do:
When calculating capacity, be sure to include line activities such as continuing education or special leave. This will allow for more accurate analysis and forecasting of workload and times.
Keep in mind that approving leaves is usually my responsibility as the department or division manager, not the project manager. Therefore, it is important that line and project managers have consistent data to allow for optimal scheduling and time planning.
Start planning vacation early, even if the exact dates and times are not yet known. Long-term plans should already take vacation into account. As soon as I approve the vacation, it will be deducted from the allotment.
Plan for vacation already at the project portfolio level, since vacations tie up about 13% of capacity. I make sure that the vacation days are not evenly distributed throughout the year to avoid project delays and additional costs.
Past patterns tell us when and how much vacation is usually taken. I take this into account when planning, especially during school vacations, to avoid potential bottlenecks.
Holidays and bridging days, which are often used for vacation, should be recorded in the project calendar and in the workload analysis in order to ensure realistic planning.
For large projects, I agree on project phases in which employees can and should take their vacation. This prevents prolonged project interruptions and ensures that work progresses efficiently.
An effective substitute system is crucial to ensure that substitutes are well trained and always informed about the current status of the project. This allows us to ensure smooth handovers and continue projects seamlessly.


Have a nice vacation 2023!
... in this sense: have a wonderfully relaxing summer vacation 2023 - in the knowledge that the projects at home simply continue. Thanks to Can Do!