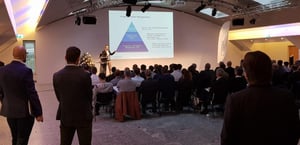 Already for the fourth time in a row the Swiss CSP AG organized the PPM practical test. Nine project portfolio management tools were put through their paces in the World Trade Center Zurich by users from the public administration, healthcare, trade, industry & services, financial sector and management consultancy sectors on the basis of a hands-on test. The users carried out practical exercises in the software with the aim of comparing the tools, particularly in terms of benefits and usability. Can Do again participated in the study and was awarded for its functional scope, degree of innovation and user-friendliness.
Can Do leading in resource planning and innovation
According to the participants in the practical test, the PPM tool from Can Do is particularly useful in the area of resource planning, because Can Do's solution transparently displays the availability of resources throughout the organization, which enables a high degree of flexibility in planning. Can Do is therefore particularly recommended for organizations that expect an integrated PPM tool with innovative approaches to improve feasibility discussions in the portfolio context. The evaluation of the criteria as well as the benefit dimensions show that the tool convinces above all by its clarity. The control of the processes and the benefits for the "line" were also rated good or, as mentioned above, above average.
The criterion "power" was rated particularly highly for Can Do by users, thus demonstrating the solution's wide range of functions. In addition, the evaluators attested the tool a high degree of innovation, which has a motivating effect on the users and promotes the willingness to work with the solution. In terms of usability, the testers also gave the tool good ratings - and even a first place for its design.